GoSun's Luxury Accessories with Portable Capacity
Indulge sustainably and comfortably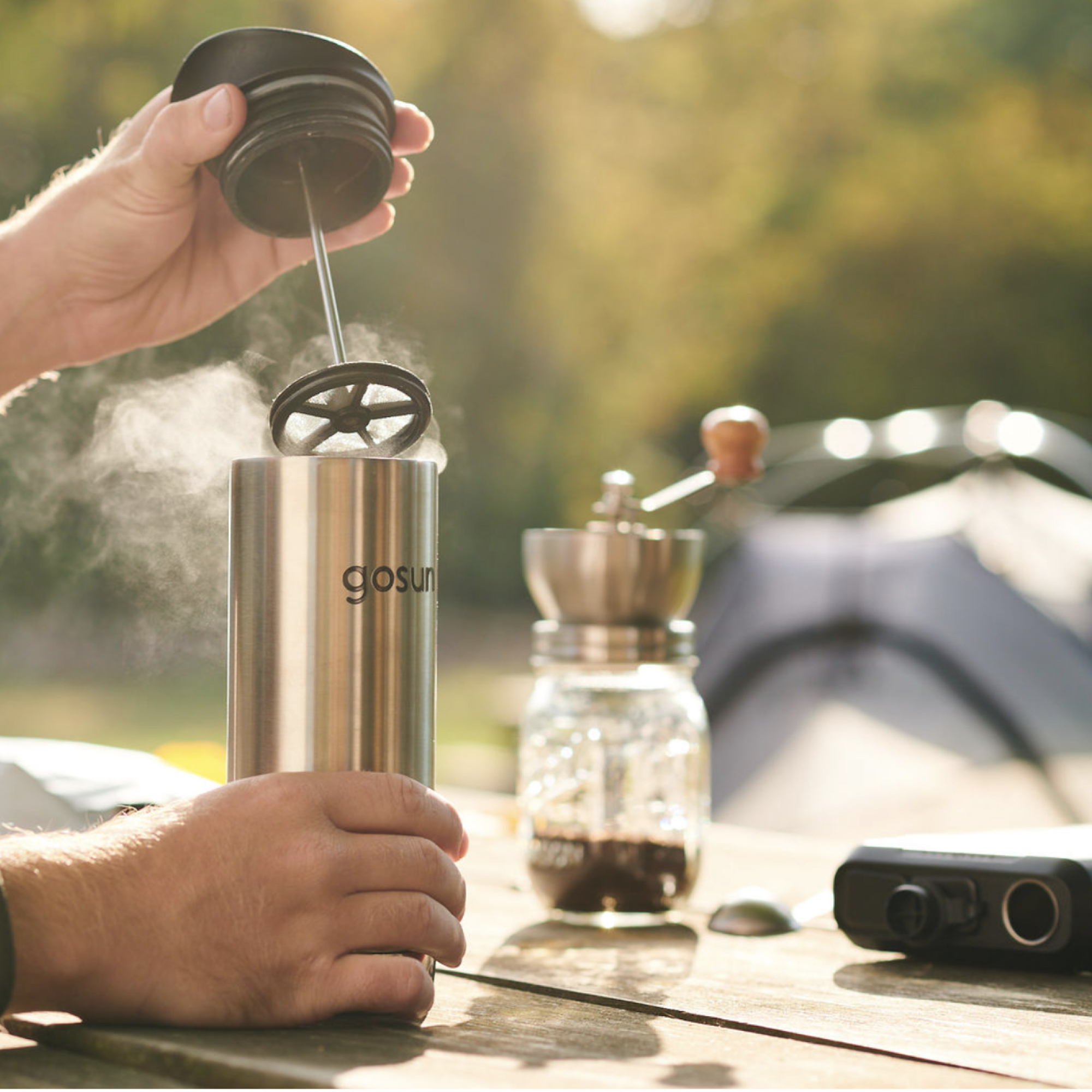 GoSun Affiliate Partners: Avantlink / Skimlinks / Viglink
---
The GoSun's 45W Electric blanket is a high-capacity, portable electric blanket, perfect for those football tailgates, keeping warm during cold adventures, or to use during natural disasters. GoSun's luxury soft 12 Volt blanket is adjustable to 45watts, one of the industry's highest heat ratings. With all-weather performance, this blanket is capable of running off any car, truck, boat, or RV. Bundle it with or without the 144 Powerbank – extending your warmth for another four hours.
Blanket Specs:
Weight: 1.55 lbs
Dimensions: 58" x 40"
Compatibility:12V Carport and Power Banks
Material: Polyester
Power Input: 45 Watts at 12 V and 30 Watts at 10 V
Power source: 12V Electricity
MSRP: $89
---
GoSun's Brew coffee maker gives the power to make coffee or tea in the palm of your hand. This is a stainless steel travel mug, french press & heater all-in-one that makes tea or coffee anywhere in just 10 minutes. With a 130W, 12V Heater and integrated French Press, this 16oz, double-walled mug will not only brew your drink, but it will keep your drink hot for hours. You no longer need grid power, fuel or fire, stove or hot plates, or a microwave.
Brew Specs:
Width: 2.75 in
Height: 8.75 in
Weight: 1 lb
Dimensions: 8.75" x 2.75"
Capacity: 16 oz
Material: 304 Stainless Steel, BPA Free Plastic Silicone
Power Output: 130W
Power Input: 9-15V DC, DB-14 Connector
MSRP: $99
---
GoSun's Solar camping light is off-grid ready, but not just for camping. This portable light provides 50 lumens of light for more than six hours – a perfect solar lantern ideal for night reading, cooking, or lighting up a home during a power outage. Weighing only 6oz, this is a must-have for every traveler. 
SolarLamp 50 Specs:
Weight: 6 oz
Dimensions: 4.3" x 4.6" x 2.3"
Material: Polycrystalline
Power source: Solar
Light: 50 lumens (Mode 1) and 20 lumens (Mode 2)
MSRP: $39