Solar Company GoSun Announces JV with RV OEM CAMP365
The first aerodynamic, lightweight, expandable off-grid solar trailer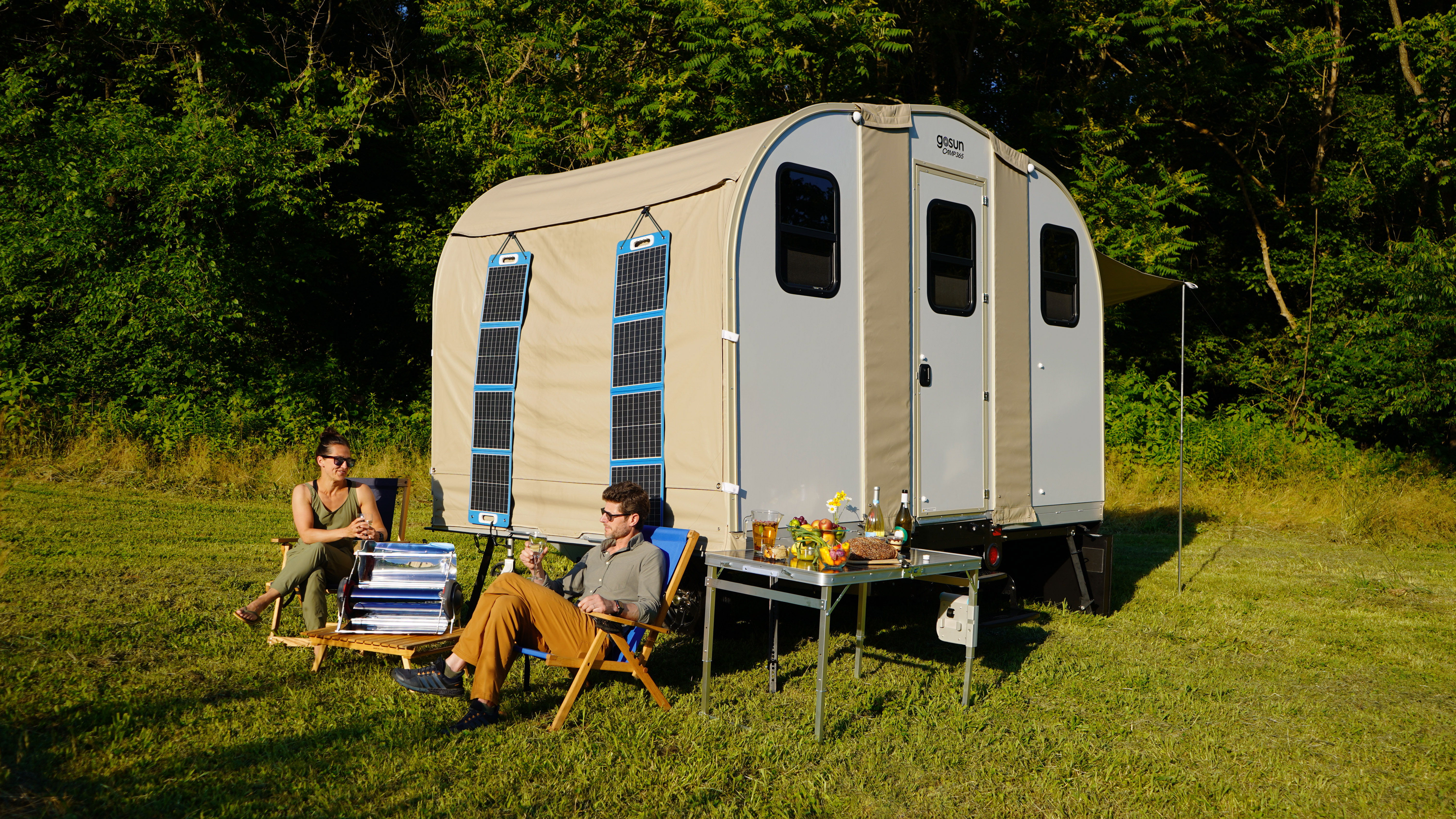 CINCINNATI, June 21, 2022 - GoSun (https://gosun.co), creator of solar appliances that help people live with more independence and resilience, today introduces its joint venture with AWOL Outdoors Inc. Dba CAMP365, to create the latest product, a solar-powered, self-contained, travel trailer.
The innovative engineers from Camp365 and GoSun have combined their expertise to offer a trailer that travelers have been waiting for - an aerodynamic, self-sufficient, solar-powered trailer.
Many outdoor enthusiasts want the freedom to take off and go. But the problem with conventional trailers is that they are too big and heavy, you need a large truck to pull the units, and you have no place to store/park the trailer when you are not using it. ​ 
The new GoSun Camp365 is an ultra-lightweight trailer weighing a mere 1,800 pounds and can be towed with nearly any vehicle, including electric cars. With its extremely small footprint when folded, the Camp365 trailer can be parked anywhere, including most normal-sized parking spaces and garages.
The GoSun Camp365 takes less than 10 minutes to unfold into a roomy off-grid cabin, expanding to offer 700 cubic feet of space with a height of 7 feet, 6 inches. With living areas indoors and out, the trailer is built out with a complete set of GoSun solar appliances, including cooking, refrigeration, off-grid power, kitchen sink, hot shower, and more.
These days, travelers need to book a campground months in advance, and campsites are often overcrowded and noisy. Also, these campsites are getting expensive, typically costing $50 a night and up to $100 a night with full hookups. Yet, there are thousands of places to park for free if you do not have to depend on power and water hookups. This is the freedom and flexibility that the GoSun Camp365 offers. With the proprietary leveling system, one can set up on various off-grid sites, which other campers and tents cannot.
When parked at home, the GoSun Camp365 offers an emergency power system that can power all your electronic essentials and provide you with cooking, refrigeration, and freshwater. When you entertain guests, the GoSun Camp365 delivers an instant and comfortable pop-up guest room.
"This collaboration with Camp365 demonstrates what GoSun is about as a brand - offering innovation that helps people become more self-sufficient and resilient while also creating more efficient and less impactful ways to enjoy the outdoors," said Patrick Sherwin, GoSun Founder and CEO. "We're honored and excited to be bringing the GoSun Camp365 trailer to our customers and can't wait to see them out in the wild."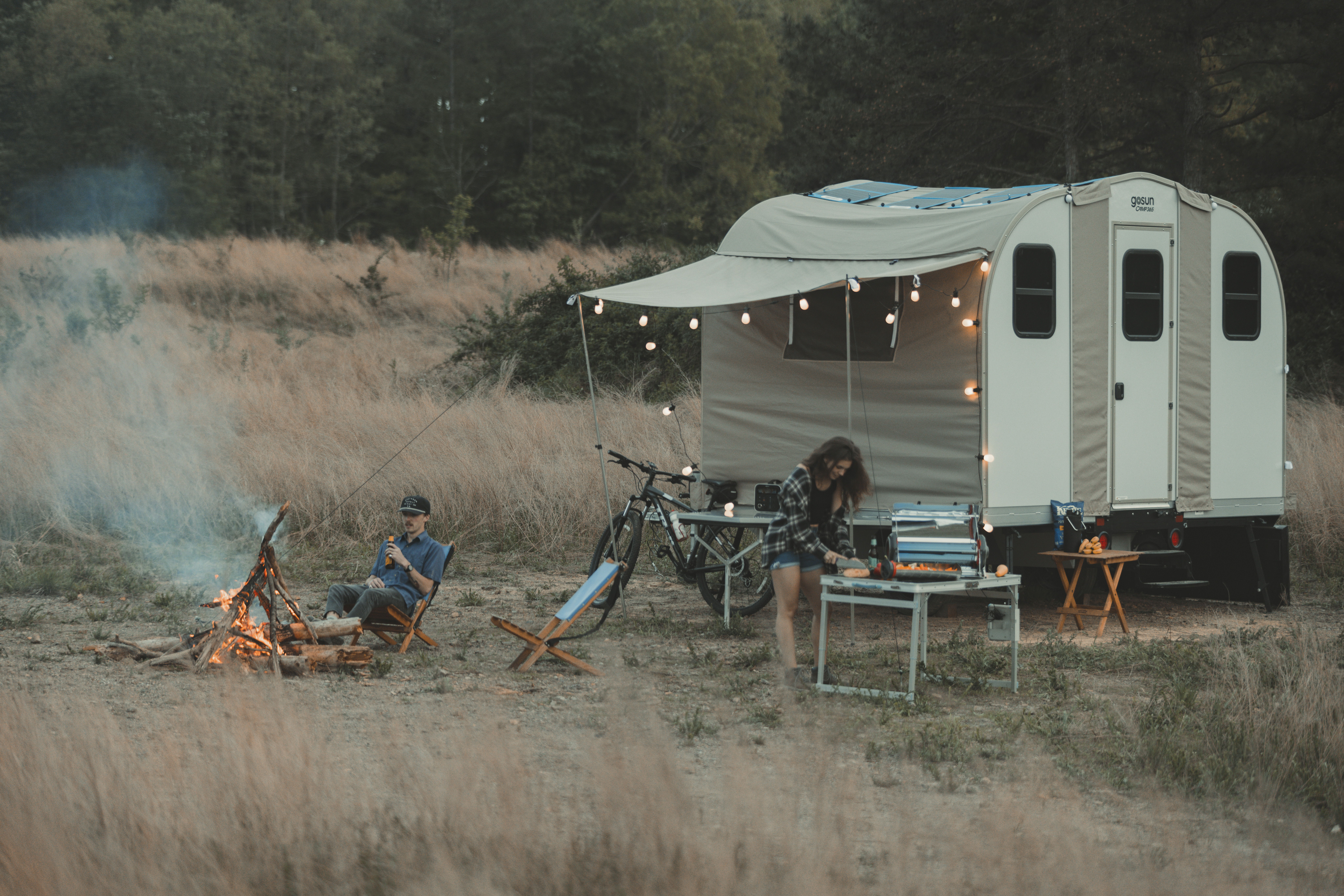 The GoSun Camp365 trailer integrates the full suite of GoSun solar appliances, including:
Refrigeration
The Gosun Camp365 includes the super energy-efficient Gosun Chill. ​ The Chill refrigerator cooler has 40L of space, plenty of room for all your drinks and food, and never needs ice. 
Cooking
For cooking, the remarkable GoSun Fusion is included that makes any meal from sunlight and can cook with the onboard 12-volt battery.
Water
Clean drinking water when one is on the go is critical, and the GoSun Flow water system can purify water from any source, whether a stream, river, or lake. ​ With the push of a button, a two-watt USB-powered pump moves water from the source through a filter. This trailer has over 24 gallons of water storage on board.
Heating
Staying warm at night is easy with the GoSun heated blanket, and since it's portable, you can use it in the Trailer on your bed or outside when you are by a campfire. 
Power 
Packed with energy and ports, The GoSun Camp365 comes with multiple portable power banks and the larger Power 1100, which can power all of your 12-volt and 110-volt appliances, eliminating the need for a gas generator or campground hookups.
Solar Charging
The GoSun Camp365 naturally has solar charging. The Camp365 offers 300 watts of solar power, including its portable and useful Solar Table.
Brew
Although we love getting away from it all, many of us love our hot cup of coffee or tea in the morning.
An ultra-portable, all-in-one French Coffee maker, is also included.
Backup Power System for your Home
When parked at home, the GoSun Camp365 provides an emergency power system that can operate365 days a year to power all your electronic essentials and provide you with cooking, refrigeration, and freshwater.
MSRP: $29,500 | Landing Page | Images